Jeti Radio Duplex DC-14 Basic 2.4 GHz w/Telemetry Transmitter Only Radio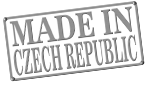 Note: This item is not for use in the US and Canada (Pending FCC/IC Certification)

More information (links):
* Jeti Duplex DC/DS-16, DC/DS-14 Instruction Manual (.pdf)
* Click Here for Firmware Updates

The new Jeti DC-14 Basic transmitter allows you to create system that only includes what you actually need, but one that also gives you the opportunity for future expansion. For the first time Jetis DC-14, State-of-the-art transmitter lets you customize its software and features. Now, you only pay for features that you will actually use. Save up front on a cutting edge radio system, but keep your options open for when your needs change.

The DC-14 represents Jeti's new, State-of-the-art, transmitter that sets a new quality standard for the RC Industry with its revolutionary features and brand new plastic Hall Sensor Gimbals. Jeti's final touches and finishes are outstanding. The front panel of the system is made of aluminum with UV stabilized clear coating and the case is made of painted, CNC cut, solid aluminum.

This revolutionary, digital, 14+8 (22) Channel (Upgradable from 8), 2.4GHz, frequency hopping radio system is fully designed and manufactured by Jeti Model in the Czech republic. This is one of the most advanced radio systems on today's market. With their solid CNC aluminum case with a fully integrated antennas, a mini USB port, built-in speaker, headset jack, plastic transmitter gimbals with Hall sensors (4096 step resolution) and 4 ball bearings for precision movement, a large 320x240 backlight display and many other features the Jeti DC/DS-14s are sure to become the new standard in transmitter performance.

One of the attractive features of the Duplex 2.4GHz line of products is it's full integration with all Duplex telemetry sensors. You can easily observe up to 20 (Upgradable) different parameters in real-time directly on the transmitter. Or, by using the JetiBox Profi (sold separately) you can see your data in parallel mode giving you and your co-pilot valuable real-time information (see video).

One of the most important features of Jeti's transmitters is the gimbal and switch function assignment flexibility. With the DC-14 you are free to fully customize your radio. You can swap switches or sticks (Mode 1-4) and the on-board computer will recognize your changes and assign functions anywhere you like. Other important upgradable functions include programmable Sounds/Alarms and even user-recordable sounds. This audible alarm feature was specifically designed to keep you informed while also keeping distractions to a minimum. We think this is the best way enhance both your enjoyment and your model safety. You can simply set a receiver battery capacity alarm for the desired capacity used and once that number is reached the system acoustically and visually gives you warnings.

Specifications and Features
State-of-the-art, upgradable firmware which gives you full freedom and complete control.
Solid aluminum, CNC cut transmitter case with fully integrated antennas and oversized LCD display.
Mini USB port for firmware upgrades and PC download of telemetry data.
Integrated speaker and 3.5mm headset jack. You can play back music and create custom voice alarms (upgrade required). The options are virtually unlimited.
Upgradable, logical switches can be added that let you execute a complex string of control events with the simple flip of a switch.
9-point, programmable curve mixes for all 14 digital proportional channels. (upgrade required)
You can set up not just dual, but triple rates.
Pre-programmed servo setups for nearly every type of wing, tail and swash plate imaginable.
Unlimited use of the on-board 4GB SD card memory.
Fully integrated logical switch functions (upgrade required). If you need to drop bombs only if your throttle is at 50% and bay doors are open, with this system you can. Your programming/mixing options are virtually unlimited.
Fully integrated digital telemetry. View, process and store all your telemetry data and even wirelessly program any of the Duplex EX sensors.
Create, manage and program all alarms. Enhance safety for both yourself and your model. Monitor your temperature, speed, battery voltage, receiver battery capacity and much more.
All switches and channels are completely moveable and assignable. Want to move throttle to the right slider or switch several functions to just one stick? With the Jeti radio system, yes you can. Basically, you can program any stick, dial, switch or slider to generate any output you choose.
Up to 6 programmable timers. You can easily set a timer for your overall flight time, a model memory timer for the motor run of a specific model, and any number of count down/stopwatch timers that can be activated any number of ways.
For Upgradable Features Visit: swshop.jetimodel.com

List of Upgradable Features for DC-14US Basic
· Channels (6 more)
· Second RF Module (1 more)
· Flight Modes (3 more)
· Free Mixes (7 more)
· Graphs
· Audio Player
· Logical Switches
· Remote Commands
· Sequencer
· Timers (3 more)
· Telemetry Values (10 more)
· Sounds on Events (5 more)
· Alarms (10 more)
· Voice Output
· Gyro Setting (2 more)
· Servo Balancer
· Function Curves
· Throttle Limiter
· Variometer
· Telemetry Controls
35.00 EUR
20.00 EUR
25.00 EUR
25.00 EUR
12.00 EUR
12.00 EUR
12.00 EUR
12.00 EUR
12.00 EUR
12.00 EUR
12.00 EUR
12.00 EUR
12.00 EUR
25.00 EUR
12.00 EUR
25.00 EUR
12.00 EUR
12.00 EUR
12.00 EUR
35.00 EUR
Included:
(1) Jeti Duplex DC-14 Transmitter
(1) Jeti Transmitter Aluminum Case
(1) 110-230V Wall Power Supply
(1) Tx Battery Li-poly 5200mAh
(1) Mini USB to USB PC Cable

Video: