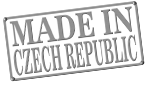 | ESC | Jeti Advance 70 Pro SB |
| --- | --- |
| Manufacturer | Jeti Model |
| Applications | Heli/Airplanes/Sailplanes |
| Special Features | Advanced Card Programming |
| Cont/Max Amp | 70/77A |
| Cells NiMH/NiCD | 6-18 cells |
| Cells Li-poly/LiFe | 2-6/2-7 cells |
| Voltage | 5-25V |
| Programming | Fully Programmable |
| Type/Max BEC (A) | Switching/5A |
| Max #Servos/V | 8/5.5V |
| Dimensions | 53mm x 26mm x 11mm |
| Weight | 38g |
Jeti makes one of the easiest to use brushless motor controllers with the most features. It is very easy for you to set up the different functions. The controllers automatically detect the number and type of batteries to set the low voltage motor cutoff point even for Lithium batteries.

Basic programming of Advance -- choosing Brake ON or OFF and Hard or Soft timing -- can be done without the Programming Card. Detailed programming of the Jeti Advance PLUS is done by using the "Program Card", carry it in your pocket or your field box, it enables all the advanced programming functions. Just move the jumper connectors to the value you select.

With the Programming card you can program or select the following:
1. Battery Type: NiMH, LiFe or Lithium
2. Motor Cutoff Voltage
3. Hard or Soft Cutoff
4. Propeller Brake: OFF, Medium or Hard
5. Timing: Auto, Low for normal motors or High for Outrunners
6. Acceleration: Low, Medium or High

These super reliable controllers have feature:
- Very smooth throttle response
- Superb operation with OUTRUNNER motors
- Automatic motor cutoff with automatic detection of the number and the type of battery cells
- Safety cutoff when using Lithium batteries that prevents accidental destruction of the Lithium battery
- High frequency brake with non linear hard or limited braking action
- Automatic self-calibrating when you turn on your transmitter
- Automatic motor cutoff when battery voltage is low
- These can be easily programmed to operate either normal brushless motors or to operate OUTRUNNER motors.